Are you interested in the BikeLogger?
Request an information package for free. Simply:
Send it by fax (+49 3727 9697 29) or by post to:
meso international GmbH / Markt 21-23 / 09648 Mittweida
We also offer retailers the BikeLogger Manager: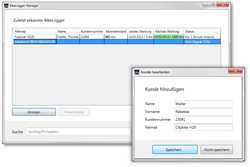 The BikeLogger Manager is a Windows application for supervising customers who own a BikeLogger. It offers retailers the following advantages:
Read the BikeLogger's mileage – helping you adjust your service to your customer's needs.
Set a time and mileage based service interval – the BikeLogger notifies your customer when their bicycle's service is due.
Search your data for customers with overdue service intervals.
Support your customers in reclaiming their stolen bikes.